Back to Blog List
GridX Debuts as Top Contender in Guidehouse Insights Customer Engagement and Experience Analytics Leaderboard
Inclusion and strong placement of GridX validates the increased role of time-varying rates in accelerating our clean energy transition.
WALNUT CREEK, CA, Sept. 5 2023 – GridX announced today that it was selected as a top contender in Guidehouse Insights' Customer Engagement and Experience Analytics Leaderboard, which focuses on electric utility software that facilitates improved enrollment, participation, and engagement in customer-centric utility programs.
"The inclusion of GridX as a contender is a strong indication that helping customers understand the bill impact of their clean energy choices is important to delivering an enriched customer experience," said Chris Black, CEO, GridX. "GridX is in a unique position because not only are we featured in the report, we have established partnerships with many of the other leaders and contenders, including Uplight, Bidgely and Sense, further validating our best-in-class rate analytics solutions."
Guidehouse Insights' Leaderboards uses a proprietary methodology to profile, rate, and rank vendors with the goal of providing an objective assessment of their relative strengths and weaknesses in the market. Inclusion in the report was based on expertise in energy usage intelligence and delivering on ambitious goals centered around end-to-end program management, smart home optimization, EV management, and complex rate analytics, among others. GridX scored high marks for its partner strategy, technology and product performance.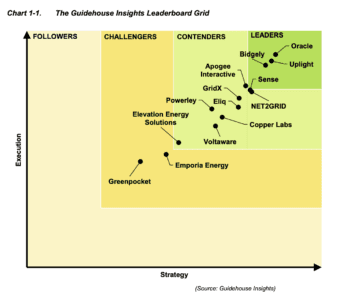 "Utilities are increasingly working to improve their customer engagement and experience strategies as they evolve to meet the emerging needs of consumers while decarbonizing the electric grid," said Michael Kelly, Principal Research Analyst, Guidehouse Insights. "While this is still a growing market for utilities, there are innovative companies like GridX working to ensure access to solutions that help increase customer awareness of their energy usage and adopt the clean energy technologies we need to decarbonize."
The Executive Summary of the Guidehouse Insights Leaderboard Report can be found here.