Back to Blog List
The Rate of Change Newsletter- Issue 1
GridX Quarterly Newsletter- Q4 2022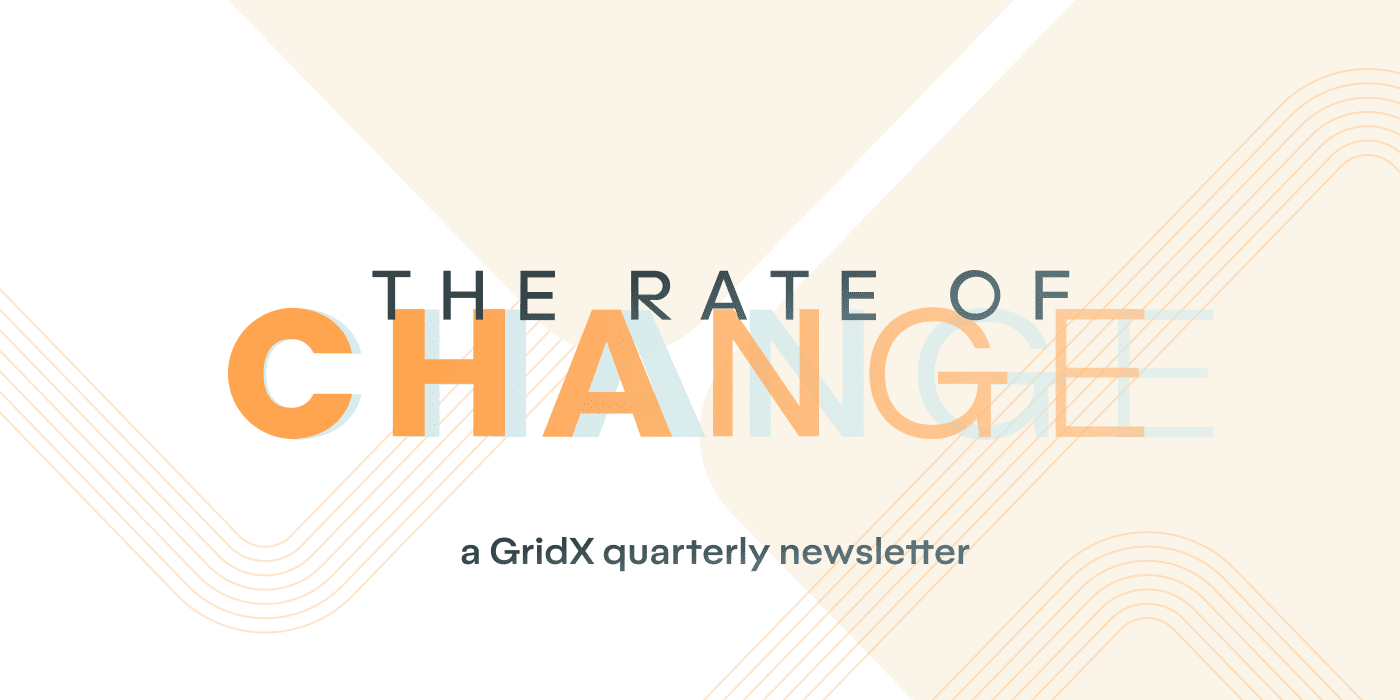 Welcome to
a quarterly newsletter from GridX
We will provide insights on the world of energy and utilities to assist people on the front lines of achieving decarbonization targets. The task in front of us is monumental and we want to be a source of insights and inspiration.
A bold new expression for GridX!
It's a new brand platform and website that showcases and reinforces our role as the catalyst of our clean energy future. A role that you are playing too!
Our revitalized brand helps us tell a very important story.
Modern rates are critical to decarbonization and the utilities we partner with are doing really innovative work in designing, marketing and billing these advanced structures.
We are ecstatic to share the outcome of this work. Check out the blog post from our CEO, Chris Black, who takes you behind the scenes of our strategy. There is meaning behind everything you see!
Together we will all be catalysts for our clean energy future!
We are sending this first edition to you in hopes that you will find the content useful and want to subscribe. Please hit the subscribe button in this email to receive the newsletter in the future.
GridX VP of Design, who was central to evolving the GridX brand that was recently unveiled.
1. What is the coolest piece you got to be a part of for this brand revitalization?
I get to lead and educate the GridX team on the design thinking process, spend time with customers, partners, and stakeholders to gain their perspective on the business, refine and distill those ideas into objective parameters, then roll-up my sleeves and put together a novel design. It's fun seeing the lights going off for people along the way, but the coolest part is knowing they're going to love the end result because they were part of the journey.
2. Why is branding important in the energy space?
While we believe that utilities play a critical leadership role in a clean energy economy, there are those that believe they are too slow to change. So, branding is especially important in our space. It's why 'our' is intentionally part of our brand strategy statement: "the catalyst of our clean energy future." It activates an essential gene in the GridX brand strategy. One that goes beyond cutting-edge rates solutions to helping our customers and partners be heroes in all of this. We want to work with everyone and want everyone to be successful.
3. What inspired you within the development of the X?


There was no shortage of inspiration going into the development of our X-logo. The letter x (or glyph) itself is rich with meaning: an intersection, an unknown (as in algebra), a Roman numeral; something experimental, extra, or experiential… You get the picture. And, set that against designing an own-able symbol in a crowded field of X-logos.
In thinking about GridX as the only single-source-of-rates-truth across customer and partner programs, I was keen to bring the idea of rates into the design. It's where the 'r's come from in both the logo and wordmark. It's a really effective way to tell our product story. But, from the very start, I was really inspired by our customers' and partners' orientation to action on decarbonization. That's what's truly behind the gestalt of the CatalyX.
4. What's one thing you wish you could share with everyone?
With regards to brand design, there's just all these little ah-ha moments along the way. While I get to share the outcome, with what I hope is a well conceived and tested design, I rarely get to share the thousands of still great ideas that didn't make the cut.
Utilizing GridX Empower APIs
A large utility serving multiple states from the midwest to the Rocky Mountains chose GridX as their enterprise rate platform partner. For residential customers, they will use GridX Empower APIs to drive TOU rate adoption and help customers better understand the impacts of their energy use. For business customers, they will employ the APIs to enhance internal Salesforce tools that help Key Account Managers advise their customers on the cost impacts of rate choices, program adoption and DER implementation.
Ditching the Manual Process & Spreadsheets for GridX Calculate
A New England-based multi-jurisdiction utility selected GridX Calculate to bill for existing and expected future complex renewable energy and DER programs. In particular, the utility has a growing number of net energy metering (NEM) customers and Community Solar programs. GridX Calculate will replace the utility's existing manual processes (like spreadsheets) it uses that are prone to error and cannot be scaled.
Offering Personalized Rate Options via GridX Explore
A utility on the west coast chose GridX Explore to offer a centralized and unified tool for their customers to evaluate DER options and provide personalized rate recommendations based on their choices. GridX Explore will replace a set of disparate tools spread across the utility's website that are unable to make recommendations based on the customer's actual use or rate options.
The 'Tax on God' Dilemma for Utilities
GridX CEO Chris Black joined The Carbon Copy podcast to talk about why electricity rate design is such a critical decarbonization tool. It includes a really interesting story about the potential unintended consequences of implementing modern rates. Listen now. ➡️
Avoiding the 'Tax on God' Dilemma When Transitioning to Modern Rates
If podcasts aren't your thing, this Utility Dive article uses that same story to talk about the importance of conducting whole population analysis to ensure certain customer classes don't inadvertently become 'losers' on new rates. Read now. ➡️
How Utilities Can Ensure Everyone Can Benefit from Electrification
It's imperative we ensure that all customers benefit from electrification. In this article, Matt Ross, GridX product lead, reflects on his time at the 2022 E Source Forum to provide practical advice for delivering a compelling journey for everyone. Read now. ➡️
Are Customers and Utilities Finally Ready for Modern Rate Structures?
We sat down with Eva Molnar (Southern California Edison) and Sanem Sergici (The Brattle Group) in this Canary Media Forum to discuss the benefits of TOU rates and how we can get more people on them by taking an analytics-driven approach. Watch now. ➡️
ComiX
It's funny because it's true.
There are so many books, podcasts, blogs and more that get us thinking. So, we thought we'd share a few. Here is a sampling of what is inspiring us. We hope you enjoy these as much as we did and will share your favorites with us as well. Happy consuming!
Utilities Trying New Strategies to Boost Dynamic Pricing Enrollment
Moving to dynamic rate plans is beneficial for the environment and good for our wallets. But education and outreach are key. Learn more about new strategies utilities can operationalize in this Utility Dive article from Questline.
Hawaii is Paying Home-battery Owners to Help the Grid. How's that Going?
Canary Media covers how Hawaii's largest utility has developed a grand experiment to enhance grid reliability with clean resources once its coal plants are all closed.
Energy & Civilization: A History
Beyond the business of powering people's lives, do you ever wonder what role energy has played in human development and social progress? This intriguing book provides a rich overview of how innovations in energy have been critical to our growth.
Big Steel Starts Prepping for a Net-Zero World
The steel industry is a heavy greenhouse gas emitter, responsible for 7% of emissions worldwide (and growing). Can we decarbonize without massive changes to this industry? Canary Media explores.
Highlights from July- September 2022
22
New Members of the GridX Team
25M
Meters Under Management
48M
Daily Bills Calculated
GridX Inc., 1525 McCarthy Blvd, Suite 1106, Milpitas, CA 95035, United States, (408) 909-2168