Back to Blog List
The Rate of Change Newsletter- Issue 3
GridX Quarterly Newsletter- Q2 2023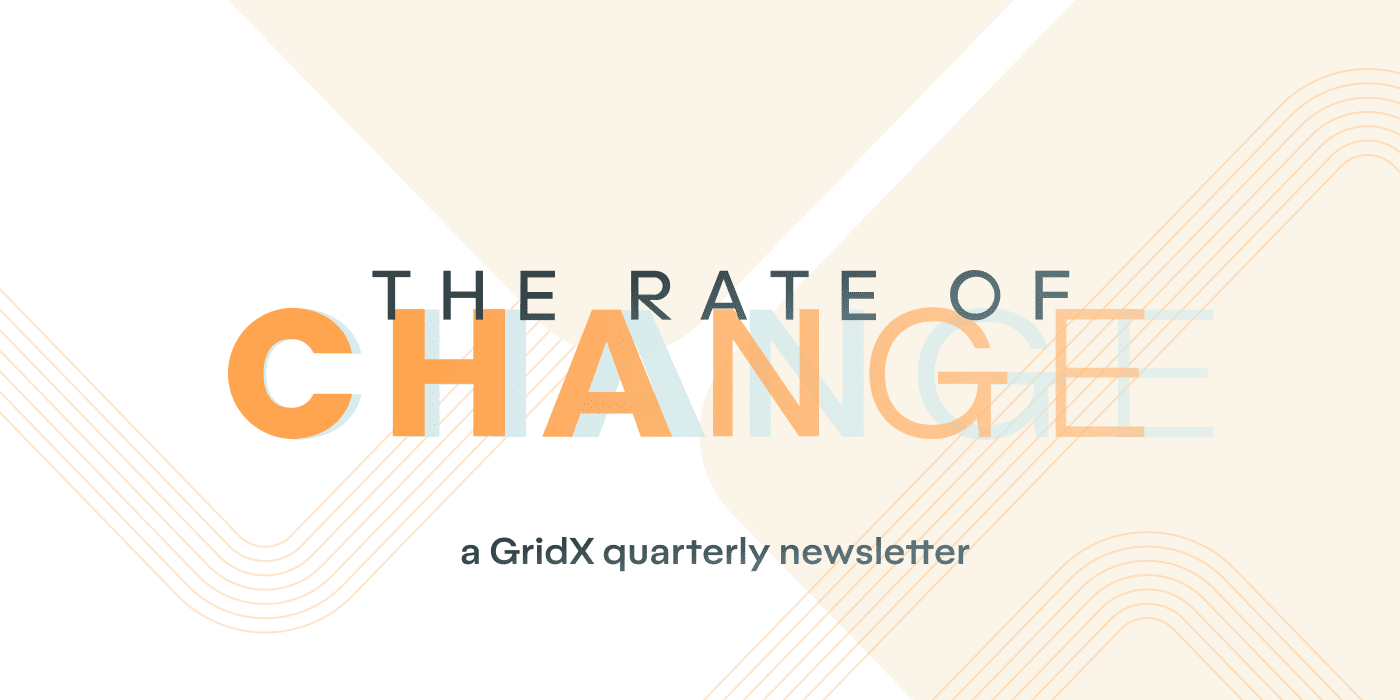 A quarterly newsletter from GridX
The Rate of Change is full of insights and best practices for people working to achieve our decarbonization goals. The task in front of us is monumental and GridX wants to be a source of information and inspiration.
A note from Chris Black, CEO
I am hearing a common theme in my conversations with utility executives…it's belt tightening time. A mild winter led to lower revenue than anticipated, among other factors.
But no matter the reason, I am frequently asked how GridX can help utilities lower costs. There are obviously many ways this can be done but my answer centers on something that can both reduce costs and deliver value to the business…and that is replacing manual processes that take people and time to accomplish.
For instance, time-varying rates are critical to managing an increasingly complex grid, achieving decarbonization goals and integrating distributed energy resources. That's been proven in our work with utilities throughout the country. But trying to implement and bill these modern rates in the utility's existing CIS is unnecessarily costing utilities millions.
One utility spent $8 million to implement a single low-income rate. Another allocates $6 million annually to manually bill complex rates. And many are trying to do it themselves through manual processes, which is costly, time consuming and error prone.
One could argue that the load shift, customer satisfaction and DER adoption benefits (to name a few) are worth the hefty price tag. These are critical outcomes, but they don't need to come at that high of a price. When you partner with GridX you can implement and bill those rates at a fraction of the cost while modernizing your approach.
Our team continues to build use cases that quantify utility cost savings we can drive while simultaneously delivering value to the business. Drop us a note…we'd be happy to walk you through them.
Chris Black, GridX CEO
Senior Director of Strategic Partnerships at Uplight, the technology partner for energy providers and the clean energy ecosystem. GridX is proud to have Uplight as one of its primary partners. Below are highlights from our conversation. You can read the full interview here.
1. Tell us about Uplight and how you are helping utilities achieve their decarbonization targets.
Uplight provides customer engagement, enrollment and load flexibility software to energy utilities. Our software helps utilities achieve their decarbonization goals by improving how they engage with customers and driving energy saving actions. And that focus on the end customer is our key differentiator. We enable utilities to engage customers in ways they haven't traditionally excelled at in the past. It comes down to engaging the right customer, with the right kind of energy opportunity through the right channel.
2. How is Uplight elevating the rates experience for energy customers?
We take a customer-centric approach to better explain what complex rates are and how to choose the best one. Because in many cases they are looking at lots of different options. It's about helping customers understand what the best rate is based on their lifestyle, enrolling them on that rate and following up with tips to maximize the value of their choice on an ongoing basis.
3. Why is it important to partner within the energy ecosystem?
I see it as a necessity. So many companies are working to elevate the utility customer experience right now, which can create confusion. By working together where synergies exist, we can eliminate some of that complexity. For example, rate analytics can be really complicated. We absolutely want to provide value in helping people understand the impact of different rates. But we also recognize there are best-in-class providers like GridX we can partner with to translate those insights into a positive experience for energy customers.
4. Why did you choose to spend most of your career in the energy industry?
It's because energy goes hand-in-hand with climate change. I think that is why a lot of people get involved in this space, right? Seeing these current and looming effects of climate change and recognizing we have to do something. I want to be part of that effort.
Enabling Modern Rate Design
A large multi-state utility in the Southeast has chosen GridX Design and GridX Analyze to help them manage their rate design process. The customer has used a legacy solution for nearly 20 years, but needs a new, modern approach that will enable them to fine tune their rate designs by leveraging smart meter data across their full customer population. As the utility navigates the mandates from its Commission and other stakeholders to evaluate new rate structures, GridX will enable them to more quickly and cost effectively do the job.
Meeting Aggressive Goals
One of our longest tenured customers agreed to extend their contract with GridX for an additional five years through 2028. This large west coast IOU uses nearly all of GridX's products and services to meet their aggressive renewable and decarbonization goals. We look forward to continuing to partner with this client for years and years to come.
Utilizing GridX Empower to Educate Customers
A multi-state utility in the Midwest has expanded its service with GridX to support additional rollout of Time-of-Use rates to a new jurisdiction. GridX will be providing rate and cost analytics through its Empower APIs to help customers learn more about how to save and take advantage of the TOU rates.
With Great Power – The podcast for utility junkies
With Great Power Season 1 has landed not just one, but three, #1 spots on Goodpods top 100 charts in Energy, Sustainability, and Climate Change. Season 2 will be featuring more executives and deep thinkers who are moving the utility business into a dynamic, digital, distributed era. Subscribe to listen wherever you get your podcasts!
An Easy Button for Key Account Managers
As utility rates and programs become more complex and awareness of clean energy issues rise, the role of Key Account Managers (KAMs) is more critical than ever. GridX explains how one Midwest Utility used our GridX KAM solution to streamline their processes.
Avoiding the Potential Ramifications of Modern Rate Structure
The implementation and adoption of modern rate structures, such as time-of-use (TOU) and varying rates, is a critical driver in meeting decarbonization goals. Read how utilizing such rates provides the financial incentive that many customers need to shift energy usage.
GridX has been driving the implementation of modern rate plans for 10 years. With the only True Rates Platform, we are helping utilities reach decarbonization goals, operate a reliable and resilient grid, and keep customers happy. Check out just a few of our customer success stories of rates done right.
ComiX
It's funny because it's true.
There are so many books, podcasts, blogs and more that get us thinking. So, we thought we'd share a few. Here is a sampling of what is inspiring us. We hope you enjoy these as much as we did and will share your favorites with us as well. Happy consuming!
A Global Look at the Energy Transition
The world added a record amount of renewable energy in 2022. Yet despite this tremendous progress, the world is still not on track to meet its climate goals. Listen to Columbia Energy Exchange host, Jason Bordoff, and executive director of the International Energy Agency, Fatih Birol, discuss how we can bring clean energy deployment in line with climate goals.
The Remarkable Upsurge in US Clean Energy Manufacturing, in Charts
With the implementation of the Inflation Reduction Act, U.S. manufacturing of wind, solar, and EV has ramped up. Read how this policy has changed the economic viability of building clean energy equipment in the U.S., attracting tens of billions of dollars in private investment from firms hoping to capitalize on the clean energy boom.
Renewable Energy & American Energy Transition: Where is Investment Headed?
To meet the growing demand for renewable energy, industry leaders must prepare for a new wave of business transformation challenges. Read about how annual clean energy investments must triple by 2030 to reach net zero carbon emissions by 2050.
Failing Our Climate Goals is Not an Option
With different strategies, the United States can begin implementing changes that could lead us toward a net zero future. Read about the numerous paths we can take to get us there by 2050.
Highlights from the last few months
4
New Customers &
Partners
28
New Members of the
GridX Team
5
That's the number of industry events we are going to be at in the next few months. If you're attending as well, let's connect!
📍NARUC Summer Policy Summit (Austin, TX)

📍EUCI Billing & Payment Conference

(Austin, TX)

📍EMACS (Phoenix, AZ)

📍TMG Utility Forum (Charlotte, NC)

📍EEI Fall Key Accounts Workshop (Columbus, OH)
GridX Inc., 1111 Broadway, Oakland, CA 94607, United States, (408) 909-2168